1945-1947 Following the end of World War 2 the Australian Government Department of Civil Aviation (DCA) starts to expand aviation services.  DCA pre war provided operational control using its network to provide timely information to aircraft.  DCA starts to employ Air Traffic Controllers to separate aircraft in the busier airspace around Australia.  Air Traffic Control consists of two branches Traffic and Operations.
pdf DCA introduce new ATC technology
pdf DCA introduce Distance Measuring Equipment
24 December 1947 The Civil Air Operations Officers' Association of Australia (hereafter referred to as "Civil Air") lodged an Application for Registration as an Association under The Commonwealth Conciliation and Arbitration Act 1904-1947. The Association had 126 members at the time.
1947-1948 First President is C. R. Sladen (Elected on 24/12/1947)
15 January 1948 An Advertisement appeared in the "Commonwealth Gazette" advising of a "Notice of Application for Registration of an Association as an organization" made by Civil Air.
30 January 1948 From January to March 1948, the following unions lodged objections to Civil Air's Application:
Professional Radio Employees' Institute of Australasia
The Australasian Transport Officers' Federation
The Federated Clerks' Union of Australia
Commonwealth Public Service Clerical Association
Commonwealth Public Service Artisans' Association
Professional Officers' Association - C'wealth Public Service
Commonwealth Temporary Clerks Association
Commonwealth Foreman's' Association
Amalgamated Engineering Union
15 June 1948 The Hearing of the Application and objections took place before the Industrial Registrar.
24 August 1948 A "Certificate of Registration of an Association as an Organization of Employees" for Civil Air was signed and certified by James E. Taylor, Industrial Registrar under the Commonwealth Conciliation and Arbitration Act 1904-1947.
1 July 1948 The proposed rules of Civil Air stated that the membership subscriptions were to be £2.2.0 a year (average yearly wage £313) The Association now had 153 members.
31 December 1949 Financial Statements
                                Expenditure - £ 361.8.10
                                                   - £ 439.14.10 into Appropriation Account.
                                Income (Subscriptions) - £ 638.15.6.
                                Liabilities - £ 611.12.10
                                Assets :
                                Cash at Bank - £ 361.8.10
                                Petty Cash - £ 0.4.0
                                Appropriation Account £ 439.14.10
                                Creditors (Maurice Blackburn) £ 171.18.0
1949-1951 President is F.W. Collopy (Elected on 13/01/1949).  Later Mr Collopy moves into management.  Almost all managers in DCA and its successors who come from an Air Traffic Control background have at onre time been a member of Civil Air.
pdf Civil Air President F W Callopy comments about air safety
pdf Former Civil Air President F W Collopy promoted Regional Director NT
1951-1952 President is G.W. Quinan (Elected on 5/5/1951)
24 July 1951 First Civil Air letterhead.
                        Address: 475 Collins Street, Melbourne.
                        (Box 989, Elizabeth Street Post Office).
                       Telephone: MXY130 Ex: 206
31 December 1951 Financial Statements
                                Expenditure/Income £ 1193.17.0
                                Liabilities/Assets £ 1034.11.1
                                Major item bought a typewriter for £ 27.10.0 (3 weeks wages for the average Australian worker).
1952-1954 President is W. J. Molloy (Elected on 3/4/1952)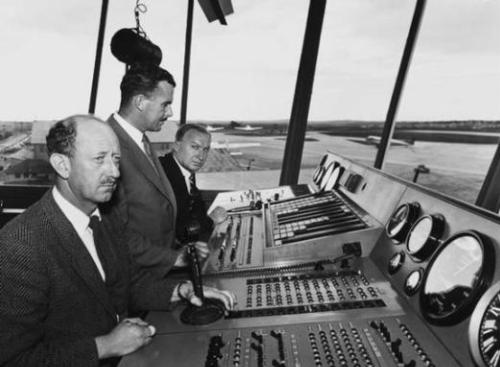 Essendon Tower 1954
1954-1955 President is M. D. Evans (Elected on 8/6/1954)
12 December 1954 The Civil Air Rules are first amended to change the composition of the Central Council and the process for elections. The Central Council is now made up of the President, General Secretary, 2 Vice Presidents, a General Treasurer and 3 Councillors. The President, General Secretary and 2 Councillors go to election in the first year and 2 Vice Presidents, a General Treasurer and one Councillor go to election the next year so the Central Council does not all change at once.
1955-56 President is L. C. Jacobe (Elected on 13/12/1955)
1957-1972 President is F. R. Soden (Elected on 10/10/1957)
8 May 1958 Rule change to allow for five Councillors.
1 July 1958 Yearly subscriptions payable in advance amended to £ 3.3.0" (average yearly wage £ 798).
20 October 1960 International Federation of Air Traffic Control Associations (IFACTA) founded
1 January 1962 The Federal Office of Civil Air is now based at 374 Little Collins Street, Melbourne.
18 May 1962 Civil Air appoints first full-time employee as their Assistant Secretary - Mr. Charles Rivington who is a trained accountant.
Sydney Airport Mascot 1962
8 December 1966 Central Council increased from six to ten Councillors to better represent the wide geographical location of Civil Air members in Australia and Papua New Guinea.
22 October 1968 AnnualSubscriptions arenow $36.00 for ATCs and $18.00 for trainees. Average workers income in Australia is $1490 per year.
1 July 1968 Permanent Executive Officer, Robert Garlick (Barrister and Solicitor), appointed by the Council of Association. Mr Garlick later serves as a Victorian Industrial Relations Commissioner after leaving Civilair.
5 July 1968 Civil Air begins to keep (and later file and store) proper Minutes of Meetings and other such records.
April 1969 Civil Air members are one of the first group of workers to reduce working time from 40 hours to 36 hours a week. Shifts are reduced from 8 hours to 7 hours with 12 minutes hand over/take over as required.
May 1970 Civil Air joins International Federation of Air Traffic Control Associations (IFATCA) at Annual Conference in Montreal, Canada
31 December 1970 Civil Air records an "overall surplus" of $2480. Civil Air now has 738 members. The Association has two full-time employees, the Executive Officer and the Assistant Secretary.
30 June 1972 Annual subscriptions are $45.00 for ATC, $36.00 for Class 1 ATC (Flight Data) and $18.00 for unqualified trainees.
Launceston ACC with a Flight Progress Board 1972
1973-1976 President is R. F. Alexander (Elected on 30/6/1973)
April 1973 Civil Air negotiate Principals of Rostering stipulating maximum shift times and minimum breaks to reduce fatigue.
10 January 1974 Civil Air now has 1194 members. The Association has three full-time employees.
October 1974 Amendments are made to the Conciliation and Arbitration Act so Civil Air's General Trustees must now be elected by the membership rather than appointed by the Central Council. A rule change was also required.
31 December 1974 Deficit of $11,101.69 recorded. Primary cause is a $5,000 bill for legal expenses for the "Bankstown Inquiry".
5 March 1975 Central Council Resolution to change Subscriptions rates from "0.75%" to "0.9%" of the ATC Class 2 salary (this is to apply from 1 July 1975). At the time it was "ACTU policy that all Australian Unions should eventually aim at a subscription rate of 1%".
14-18 April 1975Civil Air hosts the IFATCA Annual Conference in Melbourne
April 1976 Civil Air withdraws its affiliation to IFATCA.
1977 - 1981 President is D.C.B Stuart (Elected on 30/6/1977)
July 1977 Civil Air move from Room 7, First Floor, 443 Little Collins Street in the City to 66 O'Connell Street, North Melbourne.
1978/1979 ATC Subscription Rate is $139.70 with discounts for trainees.
27 March 1979 The Acting Public Service Arbitrator, R. H. C. Watson, Esquire, decides in transcript that "an allowance to compensate for loss of licence insurance premiums should be paid to Air Traffic Controllers and that the sum previously determined be fair and reasonable". This decision was made in an appeal against a previous decision of the Deputy Arbitrator in December 1978. This matter involved a major dispute with the Department of Transport.
1982-1985 President is P.K. Evans (Elected on 29/6/1982)
November 1982 Civil Air is now based at 29 Cobden Street in North Melbourne.
9 March 1983 Peter Newman's title changed to Executive Secretary "to reflect the duties of the chief Association employee."
28 June 1983 Association purchases first Computer System for $37,000.
March 1985 Plebiscite of members regarding rejoining IFATCA.
2 July 1985 The Civil Air Operations Officers Award 1985 is approved.
4 July 1985 Civil Air appoints Peter McGuane to the position of Executive Secretary.
September 1985 West Australian Civil Air members hold stop work meeting to discuss the unsafe state of Karratha temporary Control Tower.
April 1986 Civil Air rejoins IFATCA
1986-1988 President is D.C.B Stuart (Elected on 27/6/1986)
September 1987 West Australian Civil Air members hold stop work meeting to discuss the unsafe state of the temporary Karratha tower which is not cyclone proof.
New Karratha Tower next to non cyclone proof temporary tower
20 May 1988 Mid air collision – Coolangatta
1 July 1988 Civil Aviation Authority (CAA) established as a government business enterprise with one of the responsibilities Air Traffic Services. ATC lose the right to apply for internal positions in the Australian Public Service.
January 1989 The Sydney ATC Dispute begins. Principal catalyst for action is lack of staffing requiring excessive use of overtime.
10 April 1989 Commissioner Sheather – Order that bans and limitations at Sydney and Melbourne be lifted immediately.
13 April 1989 CommissionerSheather decision – "Reasonable Overtime" - One overtime shift or other overtime up to a maximum of seven hours overtime in any fortnightly period.
28 June 1989 Justice Munro decision on "stand down". History of case involved industrial activity at Mascot Airport. Approved CAA application for insertion of stand down clauses.
4 September 1989 Industrial Relations Commission Full Bench decision released on the Sydney dispute.
June 1989 The Pilot's Strike commences.....
June 1990 The AvSuper Fund is established to provide superannuation benefits to employees and former employees of Airservices Australia and the Civil Aviation Safety Authority (CASA). Civilair have one nominee on the Board of Trustees.

 5 November 1990 The Civil Aviation Authority Award 1990 is approved.  First Enterprise Agreement following the abolishing of Cenralised Wage Fixing. 

26 February 1991 Review ofResources (RoR) released by CAA into all parts of its operations.  Recommends 7 Air Traffic Control centers are consolidated into 2 major centers, one in Melbourne and one in Brisbane and 4 Terminal Control Units (TCU) located in Cairns, Sydney, Adelaide and Perth.  Four control towers are to close, Port Headland, Karratha, Mount Isa and Wagga Wagga.  CAA to cease Operational Control and give responsiblity for aviation Search and Rescue to a new centre located in Canberra. Civil Air along with other unions negotiate redundancy packages for those who do not wish to relocate.
3 July 1991 Duesbury's Report released regarding Civil Air's Financial Procedures and Accounting Management Systems.
November 1991 Rohan W. Garnett releases "This Isn't an Ambit Claim, It's an Orbit Claim", A Case Study of the Air Traffic Controller's Dispute - January 1989 - March 1991". A thesis for partial fulfilment of his University of Sydney - Bachelor of Economics (Honours) degree.
1992 Publication of the "Ratner Report" on Teams.
7 September 1992 The Air Traffic Control Enterprise Bargaining Agreement 1992 is ratified with the composite salary structure.  Penalty payments for Saturday, Sunday and non day shifts no longer paid for a one off 27% pay increase.  Public holiday shifts continue to attract a penalty payment. Sick leave as required scheme introduced.
19 January 1993 Industrial Registrar's Report released regarding Civil Air's Financial Procedures and Accounting Management Systems.
August 1994 Civil Air sponsor Australian Air Traffic Travel Section (AUSATTS) to provide discount travel for members.
1993--1998 President is R.H Lorschy (Elected 24/3/1993)
December 1993 The Restructure of the Civil Air National Executive is proposed by Geoff Fairless, Vice-President Administrative.
7 July 1994 The CAA Air Traffic Services Enterprise Bargaining Agreement 1994 is ratified.
2 October 1994 Seaview Air Accident (VH-SVQ Williamstown to Lord Howe Is).
July 1995 CAA split into two parts, Civil Aviation Safety Authority who are responsible for industry safety regulation, and Airservices Australia which amongst other responsibilities includes provider of Air Traffic Services.  Civil Air no longer covers Air Safety Investigators or Flying Inspectors who are now part of CASA.
29 June 1998 Ratification of the Airservices Australia Enterprise Agreement 1998-2001. Corporate and ATS Enterprise Agreements are now combined. Agreeement provides for 2 weeks extra leave for all employees who assist in the introduction of the new generation ATC system TAAATS.
1998—2000 President is D. Bromley (Elected on 28/9/98)
7 September 1999 Civil Air move to their new premises in Graham Street, Port Melbourne, Victoria.  Civil Air soon after launches first web site. 
July 2000 Airservices advise that they will introduce a training bond for 5 years for ATC ab initio training.
2000- 2004 President is E.R. Lang (Elected September 2000)
1 March 2000 The Advanced Australian Air Traffic System (TAAATS) is officially operational. This new ATS platform replaced a system that was based upon technology from 1940.
Brisbane TAAATS Centre 1992
October 2000 Recognition of impact of fatigue in Air Traffic Service shift work following Parliamentary Inquiry. Civil Air representatives, David Bromley and Peter McGuane give evidence to the Senate Inquiry into Managing Fatigue in transport. The Report, "Beyond the Midnight Oil" which issued in October 2000 contained specific recommendations for the Civil Aviation Safety Authority and Airservices in relation to Air Traffic Control.
17 April 2002 ("Staffing principles") Decision of Ryan (Federal Court) – Awarded a penalty amount of $600 against Airservices for breaches of the 1998 Agreement. Case involved breach of the Staffing Principles. A controller had been moved to train and acquire ratings which was in contravention of the provisions regarding establishment of a training pool.
5 February 2004 ("LOLI Case") Decision of the Federal Court by Finkelstein regarding dispute over who was responsible for the payment of the premium on the Loss of Licence Insurance policy negotiated by the union. The Judge found for Civil Air and did not agree with the construction of the clause put forward by Airservices.
21 February 2004 Decision of Senior Deputy President Lacy regarding application to alter Civil Air eligibility rules to cover civilair ATCs working for the Department of Defence. Consent granted to alter the eligibility rules.
2004-2008 President is M. S. Haines (Elected on 1/7/2004)
Civil Air Letterhead early 2000s
25 November 2004 Rollback of NAS (National Airspace System). After a lengthy campaign coordinated between Civil Air, AFAP & AIPA, the "rollback" of NAS was achieved on 25 November 2004.
December 2004 Civil Air affiliates with the International Transport Federation (ITF).
17-22 April 2005 Civil Air hosts the 45th Annual IFATCA Conference in Melbourne.
21 December 2005 Airservices Australia Certified Agreement 2005-2008 (Air Traffic Control and Supporting Air Traffic Services) certified by the Australian Industrial Relations Commission. 12% over 23 months plus $1163 into base salary for loss of licence insurance. 24/7 shift workers access a 6th week of recreation leave.
August 2006 The "Necessitous Circumstances Fund" is established.
22 September 2006 A win against TCU Consolidation – Airservices CEO advises that the organisation has decided to abandon plans to consolidate Terminal Control Units at Sydney, Adelaide and Perth to the major centres. This follows a very lengthy campaign by Civil Air against the proposal.
December 2006 Civil Air has 942 members. Monthly membership fees are ATC $163.43 (includes $73 NCF levy), ADSO/SSO $41.02, Defence ATC $44.85 and Trainee $45.04. Civil Air records a surplus of $134,000 for the year.
February 2007 Airservices introduce a Restructure and abolishes "Operations Supervisors" and replaces with "ATC Line Managers" ("ALMs"). Airservices introduce Australian Workplace Agreements (individual statutory agreements) for this classification.
19-20 July 2007 Establishment of a "Bereavement Fund" for full Civil Air members.
2-6 December 2007 Civil Air hosts the Regional IFATCA Technical and Operational Committee (TOC), Melbourne
2008 - 2012 President is R. P. Mason (Elected on 2/6/2008)
August 2008 Civil Air celebrates its 60th Anniversary and names 214 Graham Street, "Bromley House" in honour of deceased President, David Bromley.
60th Anniversary logo 2008 to 2009
23 September 2008 CASA is given regulatory powers to enter Airservices and randomly conduct Drug and Alcohol tests.
September 2008 Civil Air introduces membership fee of $10 per month for trainees located at the Airservices Australia Training Academy.
28 May 2009 Airservices Australia (Air Traffic Control and Supporting Air Traffic Services) Collective Agreement 2009-2012 comes into operation. Pay increase of 16.25% over 3.5 years. New compressed classification structure and retention of sick leave as required scheme.  Agreement reached with the assistance of ACTU President Sharon Burrows.
17 June 2010 The NCF passes $1 million mark in claims made to members.
29 July 2010 National newspapers report on two ML female air traffic controllers who lodged legal action in the Federal Court against Airservices for allowing 'extreme sexual discrimination and bullying.' (The case follows "The Melbourne Investigation" conducted by Tony Lawrence into the claims, the complaints process and the culture in the workplace.
July 2010 Airservices re-opens Broome and Karratha Towers.
10-11 March 2011 Civil Air launches its Campaign against Bullying, Harassment and Discrimination at the National Executive Meeting. The Campaign is aimed at educating members. Two distinct ideas have been developed to visually encapsulate the meaning of Bullying, Harassment and Discrimination. These are posters are to be put up on notice boards in workplaces and there is accompanying educational material in brochure form to be distributed by delegates.
21 June 2011 Civil signs a Trans Tasman Agreement with NZALPA.
June 2011 Civil Air has 5 full time employees.  Civil Air covers 92% of eligible workers, Air Traffic Controllers, Air Traffic Control Supervisors, Air Traffic Control Trainees and civillian Defence Air Traffic Controllers.  Civil Air also provide benefits to ex members who have paid the one off fee of $150 upon leaving Australian Air Traffic Control.
1 August 2012    Daryl Hickey elected President of Civil Air.
December 2012    The Airservices Australia (Air Traffic Control and Supporting Air Traffic Services) Enterprise Agreement 2012-2015 is certified. Agreement provides for 4% per annum pay rises over 3 years.
18 February 2013    Civil Air achieves reinstatement of Brisbane member in an unfair dismissal case. One member says, "this outcome was worth a lifetime of membership dues".
4 March 2013    NavCANADA report on Australian ATC staffing is provided to Airservices. The report states that ASA has 101% of its mature and 118% of its core requirements. Civil Air suspects that technically there may be enough controllers but there are not enough Fully Endorsed Controllers.
17 June 2013    Workplace Assessment in Brisbane Centre Culture – Short report is provided to Civil Air.
29 June 2013    Civil Air, like all Registered Orgs, is required to undertake financial disclosure requirements. Legislation is enacted in response to the discovery of misappropriation of members money in the HSUA.
June 2013 Updated fatigue management principals signed of by Civil Air
April 2014  The Airservices Australia (Air Traffic Control Line Manager) Enterprise Agreement 2014-2017 is signed.
November 2014    Casuals dispute – 4 casuals are made permanent following conciliation in the FWC.
12 December 2014    Airservices announces intention to relocate the Adelaide Terminal Control Unit to Melbourne and the Cairns Terminal Control Unit to Brisbane by 2017.
February 2015  Thales Australia announced as the preferred supplier of the OneSky system to replace TAAATS.  The system is expected to be rolled out between 2018 and 2021.  The OneSky will integrate civil and military air traffic control systems in Australia.
26 February 2015    FDC Work Value case is resolved after a dispute application. Backpay is provided.
March 2015     Life membership is awarded to R.P. Mason for outstanding service rendered to the Association on behalf of all members.
4 July 2015      Peter McGuane, Executive Secretary, is recognised for 30 years of service to Civil Air
November 2015      Bargaining begins for the ATS EA. Airservices puts the position that the Agreement needs to be simplified and, in line with the Government Bargaining Policy, all pay increases needs to be fully funded and, in any event, cannot exceed 1% per annum.
December 2015       Civil Air signs a Memorandum of Understanding with NZALPA. As part of the Agreement, the Associations agree to maintain regular dialogue, share relevant information and develop joint strategies on issues common to ATC in both countries.
20 January 2016      SSO Work Value study finalised.
February 2016       Civil Air launches its campaign – "Safe Skies are No Accident"
April 2016       The Airservices Executive meet the Civil Air National Executive to talk about TCU Consolidation. Jason Harfield provides a detailed briefing about "Accelerate": a business restructure to reduce 'back office staff'.
30 May 2016      The FWC make the Airservices Australia Enterprise Award 2016. This concluded an Award Modernisation process that had been underway since September 2008.
May 2016        Airservices offer VR to ATCs on long term sick leave, ATCs on secondment, ALMs, SSOs, FDCs, ADTs and FDCs as part of the Accelerate program. Almost one quarter of ASA staff are retrenched through this process.
1 August 2016      Tom McRobert elected President of Civil Air.
20 December 2016       Civil Air NE gives in principle agreement to the proposed ATS Enterprise Agreement.
December 2016      The Civil Air NE authorise expenditure to commission independent expert research into the fatigue of our shift working members. The company contracted is "CIRCADIAN".
21 February 2017      King Air Accident at Essendon Airport. The crash kills all five people on board.
23 March 2017       The Airservices Australia (Air Traffic Control and Supporting Air Traffic Services) Enterprise Agreement 2017-2020 is certified. Pay increases are 3% + 2% + 1% over a three year period. The principal benefits include retention of terms and conditions, introduction of career break leave and new consultation on roster provisions.
8 April 2017       Cairns TCU closes and the function switches over to Brisbane 
17 May 2017      Airservices announce to staff that they have made a decision to retain a TCU in Sydney.
May 2017         Federal Court prosecution success. Civil Air commenced proceedings in the Federal Court about reimbursement of reasonable professional and legal costs associated with the sale and purchase of houses where an employee was required to compulsorily or permanently transfer. A settlement was reached. ASA accepted that its recent interpretation of the relevant provisions was not correct.
8 July 2017       Adelaide TCU closes and the function switches over to Melbourne 
18 August 2017     Airservices advises that it proposes to cover the SSO and ADT employees on the Corporate Agreement. Civil Air objects and lists a Bargaining Scope Application.
28 November 2017     Airservices confirmed that they would not be including SSO and ADT employees within the scope of the proposed Corporate Agreement.
14-15 August 2018    The Women's Civil Air Network (WCA) was established
November 2018     That National Executive approves the CoM to expend up to $50,000 on a Cultural Investigation at Airservices Australia.
January 2019     YouGov Galaxy survey of Civil Air members is launched.
21 May 2019     Honourable Tony North instructed to consider Civil Air survey results, case studies and Airservices workplace reports.
26 June 2019     Honourable Tony North provides his report (A Report concerning the workplace of Airservices Australia). He asserts that there are serious questions to be asked about the safety of air navigation arising from the results of the material.
26 July 2019    Airservices engage DLA Piper to represent them regarding the Report. Chair and Board refuse to meet with Civil Air.
5 August 2019    CEO (Harfield) advises that Airservices have engaged Elizabeth Broderick to undertake a broad and independent review" into Airservices workplace culture.
6 August 2019     SMH article "Putrid: sex discrimination in air traffic control could endanger lives, report"
20 Sep 2019     Federal Court judge (Mortimer) finds that Airservices breached the consultation provisions of the EA and therefore Fair Work Act when they did not consult with employees about taking recreation leave during the Christmas shutdown period. Penalty of $12,000 for the breach. All SSOs also received 5 days of leave.
March 2020     COVID-19 pandemic means that airline traffic is greatly diminished. To deal with the threat of infection, rosters all over Australia move into Team Rosters. A high level collaborative group of Airservices and Civil Air reps is established to manage the response. Civil Air and Airservices sign a Memorandum of Understanding. Employees will take leave to assist Airservices liability issues.
21 April 2020    The Airservices Australia (Air Traffic Control and Supporting Air traffic Services) Enterprise Agreement 2020-2023 came into effect. 2% pay increases each year.
29 May 2020    Broderick Report into Workplace Culture of Airservices is released.
Late May 2020    First meeting of the Civil Air Investment Committee
6 July 2020    Civil Air NE appointed ten members to its Culture and Professionalism Working Group. A group designed to "develop Civil Air's approach to cultural improvement in our workplace. The group exists to ensure that the work conducted by Civil Air in the YouGov Survey, the North Report and the subsequent Airservices' commissioned Broderick Report is built upon to create change in our workplace."
4 May 2021    169 VRs for employees covered by the Corporate EA.
July 2021    Following consultation with staff, Airservices decides to proceed with a plan to consolidate the Sydney Terminal Control Unit to Melbourne within the next 4 years. Civil Air raises it concerns about the plan with relevant politicians (Federal and State), and the Sydney Airport Corporation.  
8 July 2021    Airservices announce that the ATO has approved a Retirement Incentive Scheme. The RIS is available to employees who are 56 years of age at 30 June 2021 and are covered by the:
- Airservices Australia (Aviation Rescue and Fire Fighting) Enterprise Agreement 2018-2021 (ARFFS EA)
- Airservices Australia (Air Traffic Control and Supporting Air Traffic Services) Enterprise Agreement 2020-2023 (ATC EA); or the
- Airservices Australia (Air Traffic Control Line Manager) Enterprise Agreement 2014-2017 (ALM EA).
"Anyone who applies will go." Overall, 138 acceptances in the ATS area.
20 August 2021    Federal Court judge (Murphy) found that Airservices breached the Fair Work Act 2009 in that it failed to consult with Byron Group employees prior to the decision to withdraw the grey day guidelines and that it failed to reinstate the status quo once Civil Air raised a dispute. Justice Murphy agreed with Civil Air that penalties were appropriate and ordered Airservices to pay penalties of $72,500
27 October 2021   The Federal Court handed down its decision in relation to Civil Air's application for contraventions for Airservices for breaching the Enterprise Agreement. The claim arose from a decision to include SAFRA shifts on the Cairns TCU roster without consultation. Airservices were found to have breached the Fair Work Act 2009 in that they failed to consult with Cairns TCU employees prior to the decision to include SAFRA shifts and publish a new roster. A decision on penalties will be handed down in due course. 
8-9 Dec 2021   The NE approved the establishment of a Project Officer role to manage the Women of Civil Air (WCAN) network.